The Project
ADITIMAT-CM is a R&D Programme funded by the Regional Government of Madrid and the European Union for the period January 2019 to December 2022, focused on Additive Manufacturing. It constitutes an interdisciplinary and intersectorial collaborative framework to join forces, put together activities and infrastructures and boost the research in progress within the groups of the consortium.
The scientific programme focuses on the development of Additive Manufacturing (AM) processes, and is structured in seven main objectives:
Development of new metalic and metal-ceramic materials.
Development of new polymer-matrix composite materials.
Adaptation of AM processes to the new materials.
Quality improvement by using post processing techniques.
Addition of new properties and functionalities.
Quality analysis.
Technology transfer focused on three priority areas: Transport, Health & Energy.
Contributions of ADITIMAT
The contributions of the programme are summarised in the scheme.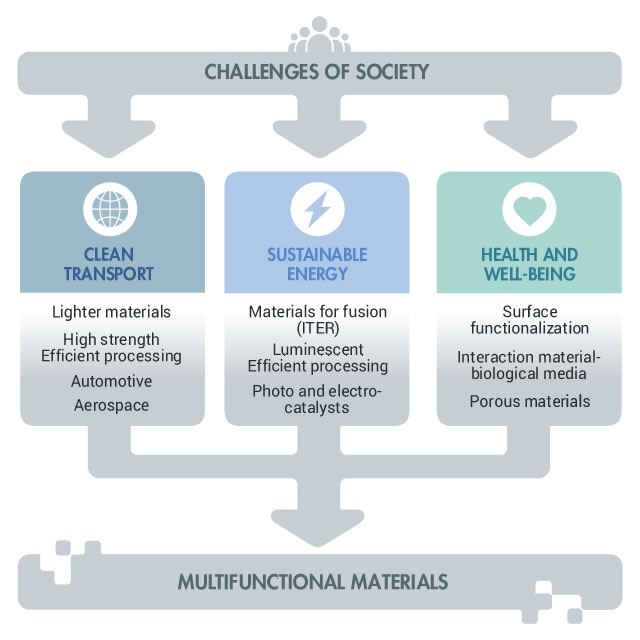 Pillars of the programme
Education
Most of the programme members are involved in teaching/training activities, in bachelor degree courses, masters and doctorates.
Collaboration
The members of the programme pledge their firm commitment to the collaboration between groups, and it is reflected in the fund of pre-doctoral contracts to develop the PhD.
Transfer of knowledge
The final idea is to transfer the knowledge to the society and industry, with the help of the seven laboratories involved in the programme, and the participation of the associated companies interested in the results. It is expected a great deal of results transferable to the industry.